Does your dry skin have you searching for the fountain of youth? The Moisturizing Cream from La Mer, Crème de la Mer, may have you believing in the myth. I had my doubts as well, but once I tried this amazing moisturizing cream, I never looked back. In this blog post, I will share with you why it is so darn special.
Disclosure – Some of the links in this post are affiliate links and if you use them to make a purchase, Luxeaholic, LLC will earn a commission. In addition, as an Amazon Associate, I earn from qualifying purchases. We link these companies and products because of their quality and not because of the commission we receive from your purchases. The decision is yours, and whether or not you decide to buy something is completely up to you. We appreciate you either way! Please see our Policy Page for more information.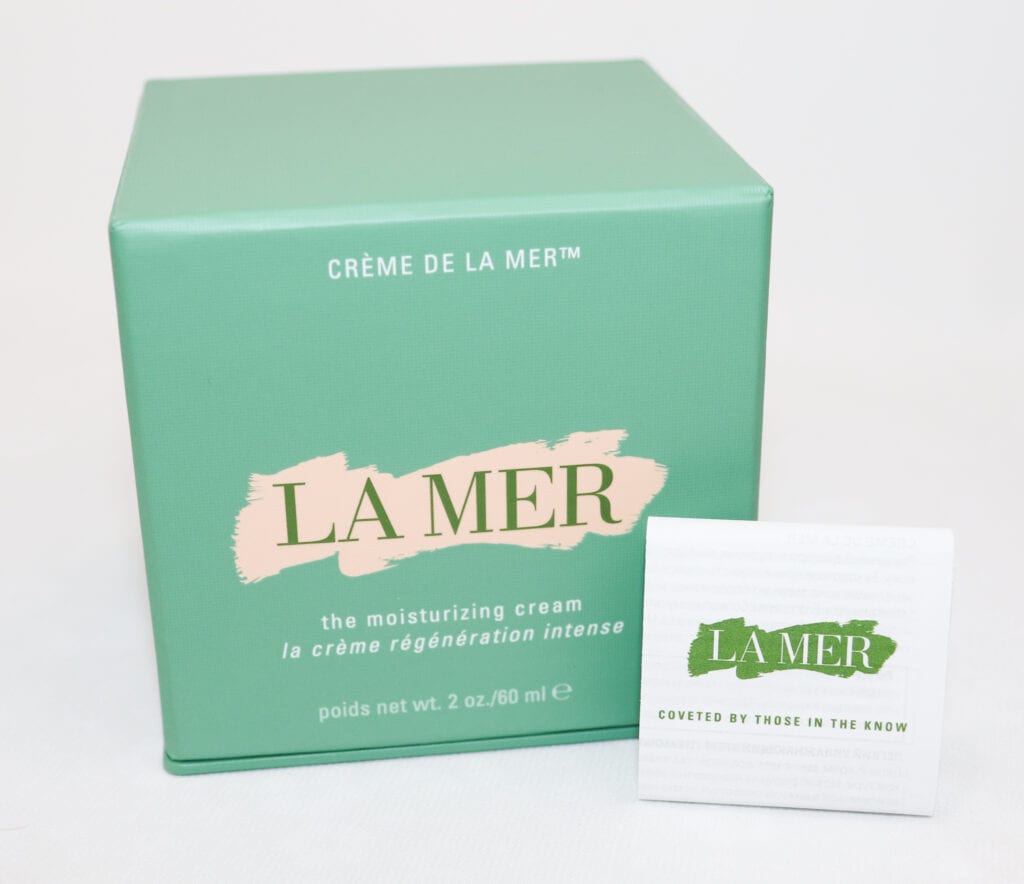 KEY INGREDIENTS OF CRÈME DE LA MER – MIRACLE BROTH™ AND LIME TEA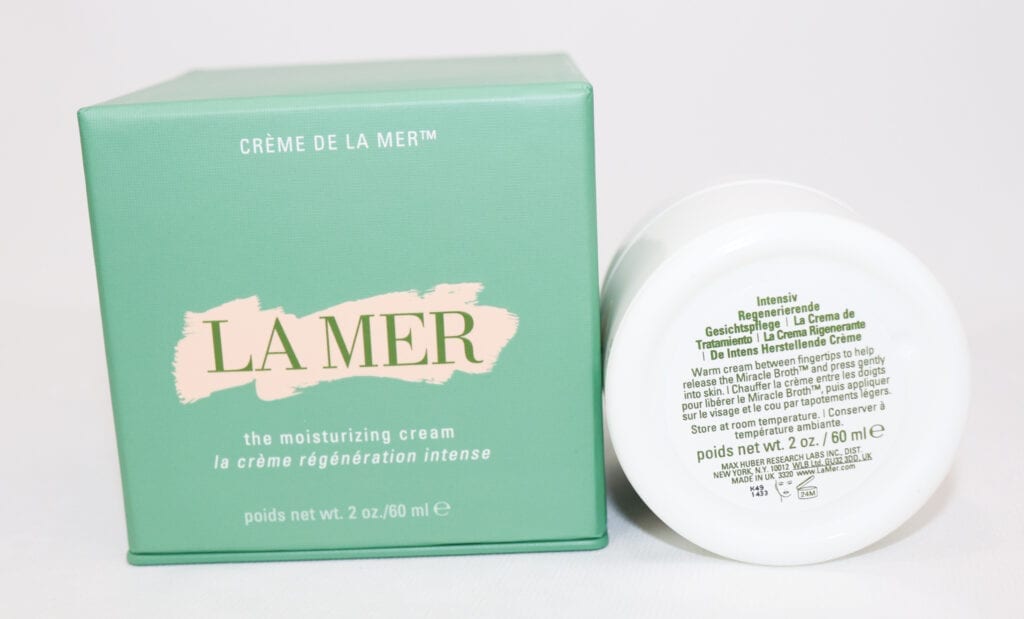 According to La Mer's website, the first ingredient of The Moisturizing Cream, Crème de la Mer, is algae (seaweed). You can read the long list of ingredients at: https://www.cremedelamer.com/product/5834/12343/moisturizers/creme-de-la-mer/moisturizer-for-dry-skin#/sku/26766.
What I found interesting was La Mer's discussion of its key ingredients, Miracle Broth™ and lime tea. Specifically, it notes that this wonderful moisturizer is infused with "cell-renewing Miracle Broth™." In addition, the company describes that it hand-harvests Giant Sea Kelp from the waters off Vancouver Island to create its Miracle Broth™, which it states is integral to every La Mer product – including Crème de la Mer. Also, the above-linked website declares that Giant Sea Kelp is "[o]ne of the fastest growing plants in the world, with exceptional self-regenerating powers …" Additionally, they tell of using lime tea in Crème de la Mer as a proprietary antioxidant to rid your skin of free radicals and protect your luscious face from environmental stress, as well as the effects of pollution.
Now, let's get into the details about this luxuriously rich moisturizing cream!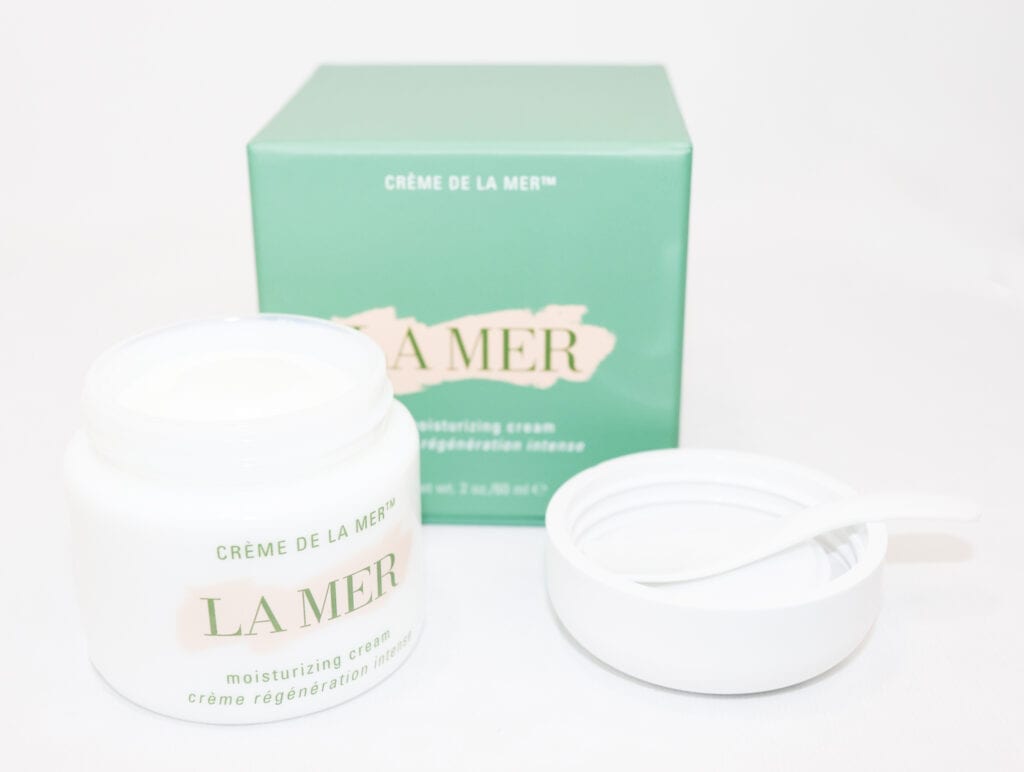 MY SKIN PROBLEM
The Culprit
I find that the dramatic change in weather from slightly cold to downright frigid, causes my face to become irritated, red, puffy, and parched all at the same time. In addition, this assault is only exacerbated by the drying heaters I encounter at home and while out and about.
Two years ago, I noticed that the tiny little lines around my eyes and mouth seemed to become more exaggerated as winter wore on. I wondered if the constant creasing would become a permanent fixture on my face. Not to mention, I was getting dry patches that persisted even after I exfoliated my face! Undoubtedly, this made my makeup application look patchy, uneven, and utterly gross. Worse yet, once the irritated and dry areas subsided, I was left with age spots and uneven skin tone.
The Damage
In the end, I believe that the constant environmental assaults my skin experienced resulted in irritation and dryness that produced a never-ending cycle of inflammation. In addition, that inflammation damaged my skin's natural protective barrier. Moreover, without its perfect natural barrier, the collagen in my skin was left more susceptible to damage. Thereafter, the breakdown and depletion of the collagen in my skin triggered the formation of untimely wrinkles and age spots. Consequently, I was desperate to soothe and rehydrate my face, reduce the inflammation, and slow the aging process.
THE SOLUTION- THE MOISTURIZING CREAM FROM LA MER – CRÈME DE LA MER
In my search for blissful hydration, I tried several high-end moisturizers that just seemed so-so. As my search continued, I read about La Mer's moisturizing cream, Crème de la Mer. La Mer's website documents that its Miracle Broth™ elixir "… helps create the perfect environment to calm the look of redness and other signs of inflammation." I gave the product a shot two years ago and, after really testing it through the seasons, I absolutely agree with the claims made by La Mer.
DESCRIPTION OF CRÈME DE LA MER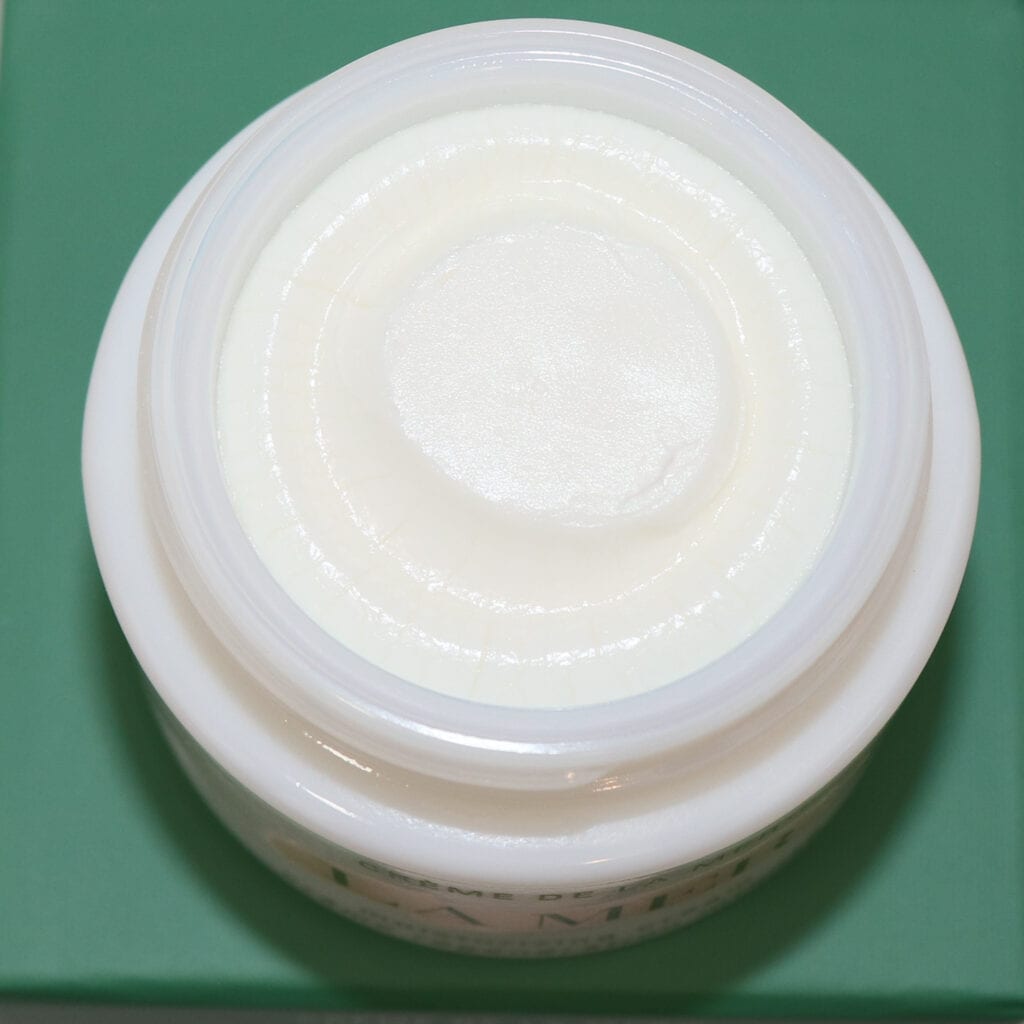 La Mer's Crème de la Mer is a super thick white cream. By thick, I mean it is not the type of moisturizer that will pour out of its container. For instance, you literally have to press into the moisturizer and scoop to get it out. Think semi-hardened ice cream, but with a nice smooth whipped appearance. Thankfully, it comes with its own little scoop, so you do not have to contaminate the entire container with your fingertips. Additionally, La Mer's Crème de la Mer has a fresh and clean scent that is mild, but evident from the moment you open the container. Overall, I find the scent to be pleasing and non-irritating to both my nose and my skin.
HOW TO USE CRÈME DE LA MER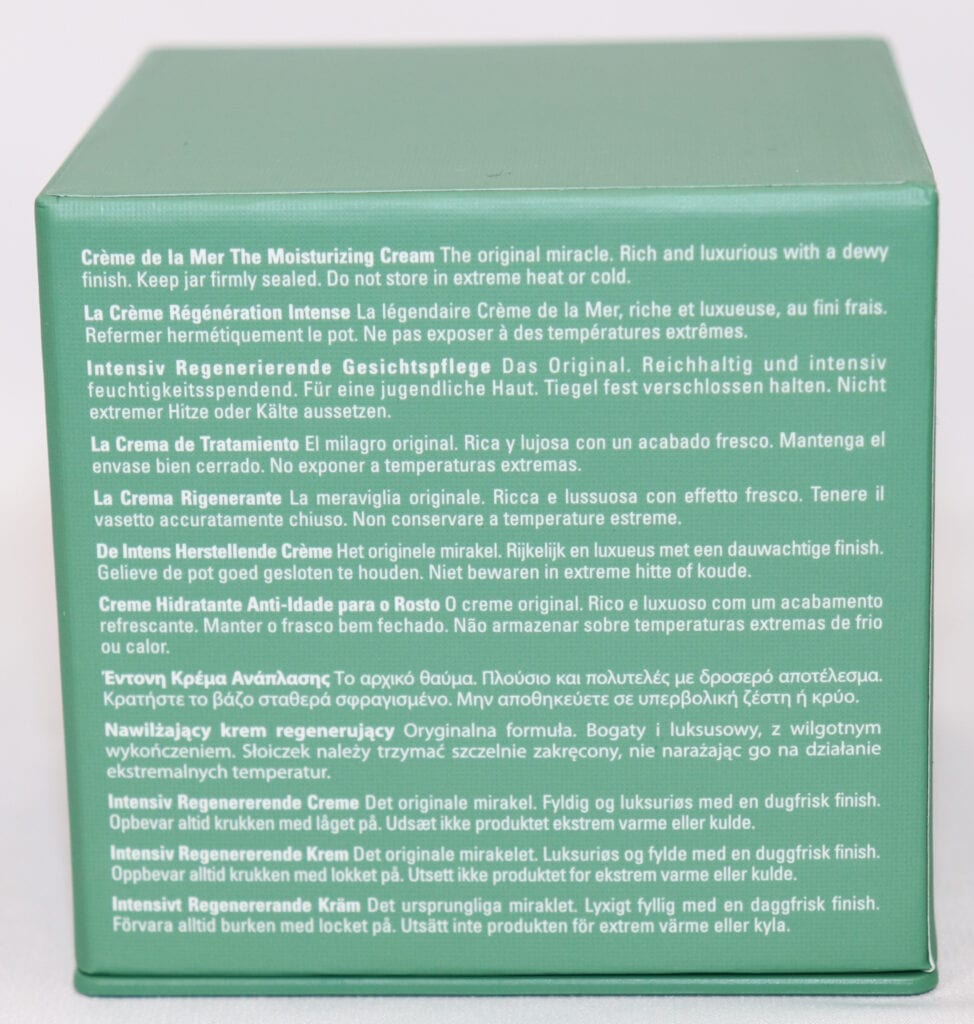 Direction
With such a thick cream, it is not something that you can just plop on your face and expect it to disappear. You have to scoop a little Crème de la Mer, spread it over your fingertips, and then gently rub the cream between your fingertips for a few seconds. This warms the moisturizer slightly so you can get it thin enough to apply to your face. In addition, you will know when it is ready to be applied because it transforms from snow white to completely translucent. Thereafter, once the cream becomes translucent, you gently press it into your skin. Also, La Mer's website advises you to press and not to massage Crème de la Mer into your face.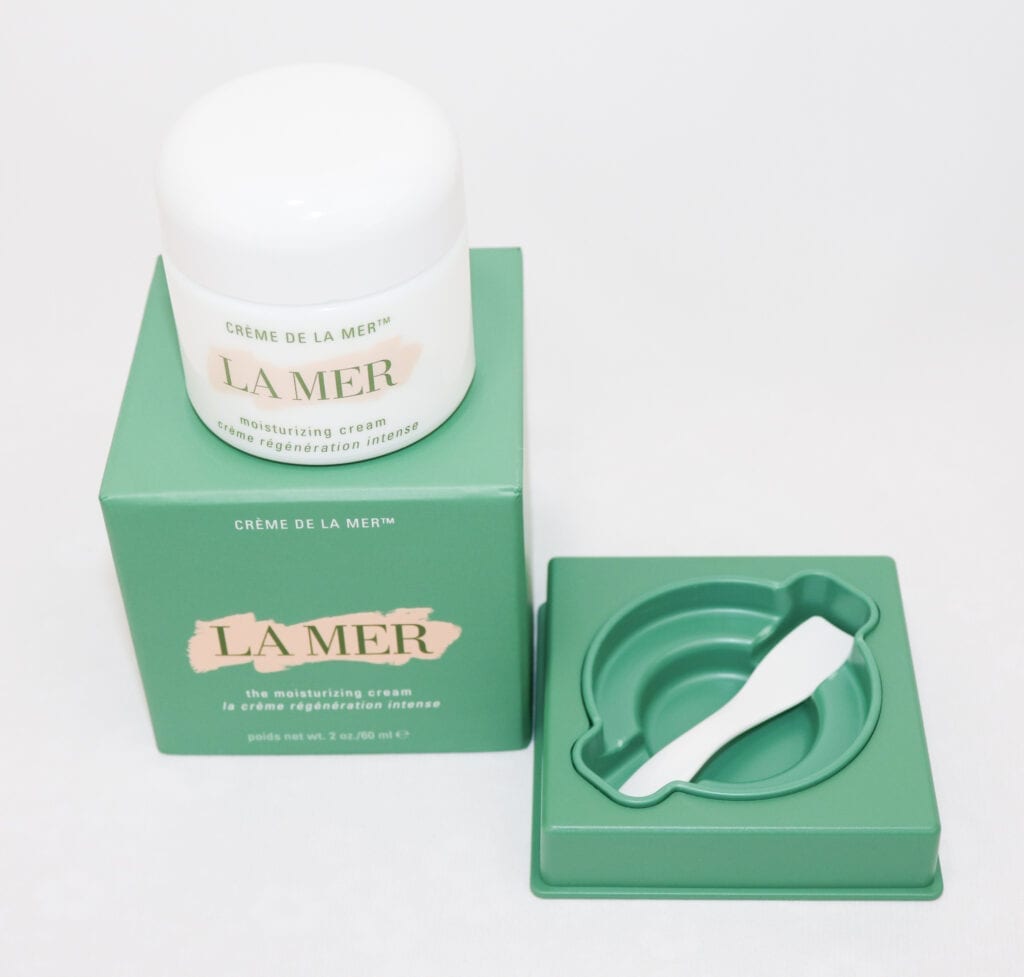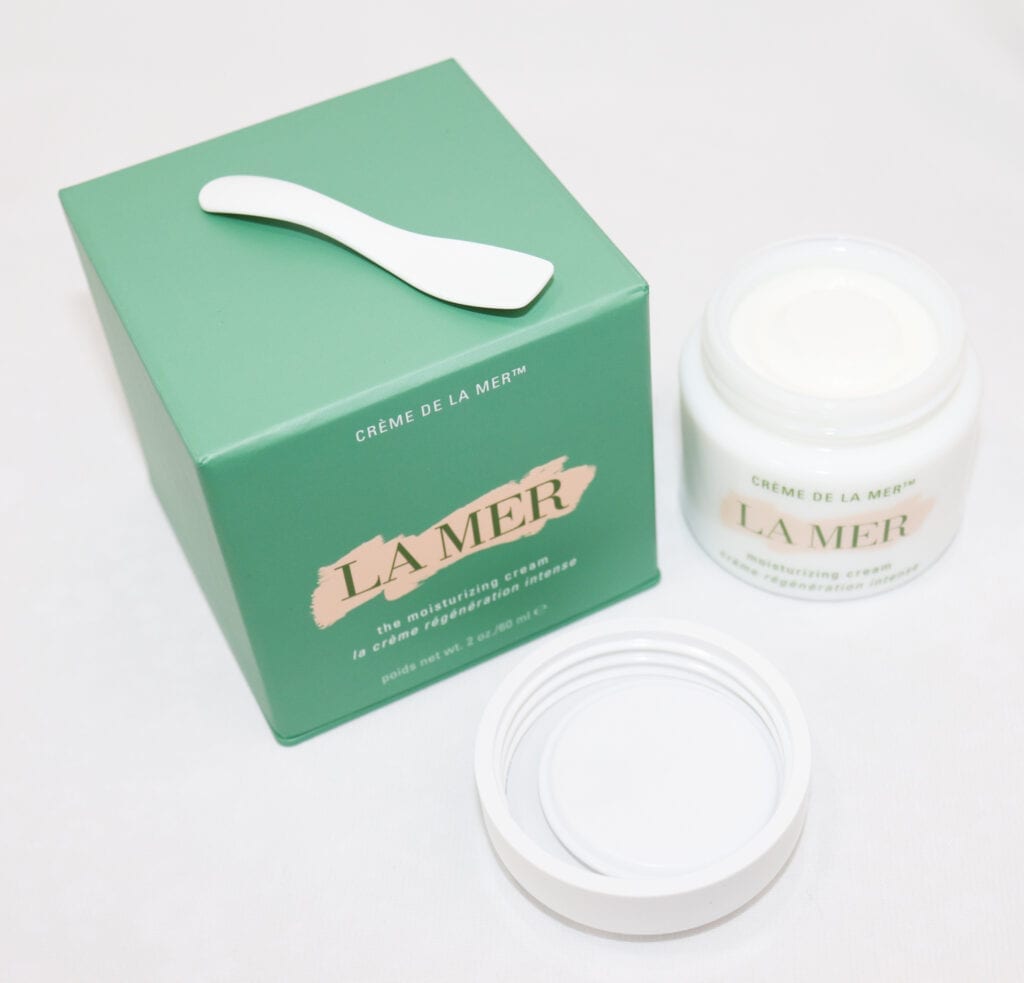 Application
Based on the above, every morning and evening, I scoop a small amount of Crème de la Mer (about the size of a pencil eraser) and pat it on my entire face, under eye, neck, and décolleté area. While La Mer makes a separate eye cream, I find that the Crème de la Mer is perfect for around my eyes as it is gentle, moisturizing, and helps to decrease puffiness and inflammation. As such, I have been able to save some money because this product works double-duty for me! In addition, I can get by with considerably less moisturizer during the summer months. Moreover, I do not find that it leaves my face too greasy … unless I simply use too much.
I repeat this ritual every morning and evening. One word of caution, Crème de la Mer does not include a sunscreen. For that reason, don't forget to add a quality sunscreen to your daytime routine when using this awesome product!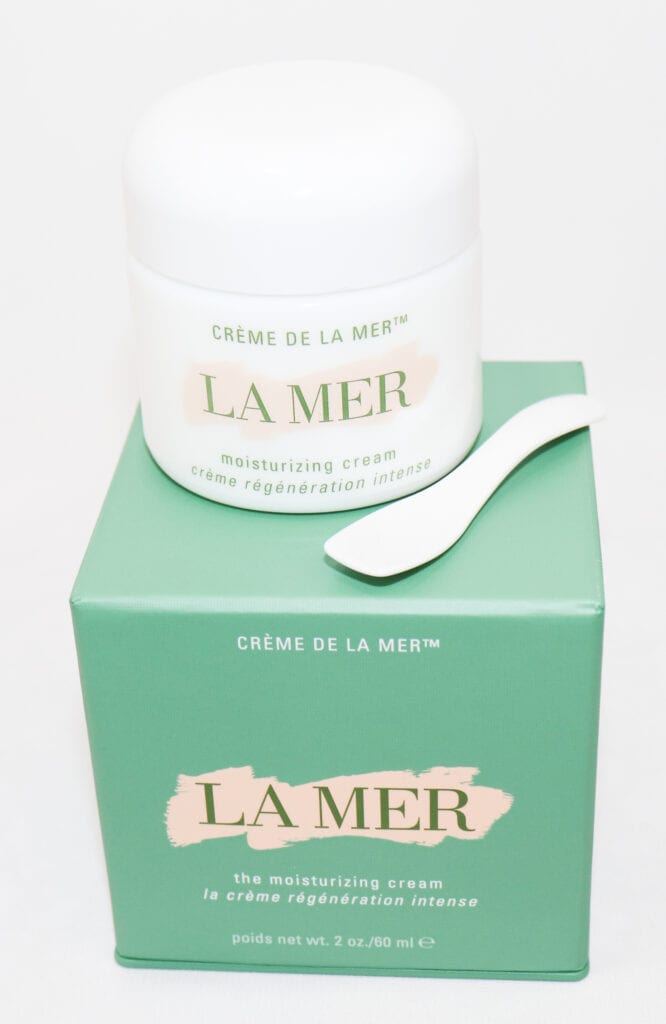 BENEFITS
Since using La Mer's moisturizing cream, Crème de la Mer, I find that my facial woes are all in the past. My face is no longer irritated, red, puffy, or parched. Instead, after using the product for two years my face is now much softer and more supple. Moreover, it is firmer and almost creaseless. I won't say I no longer have age lines, but I will say that they are considerably less noticeable since using Crème de la Mer. In addition, my pores are considerably smaller and hardly visible thanks to this magical product. The best part is that my age spots faded! Too boot, my smooth skin allows my foundation to apply nice and even.
CONCLUSION
In my opinion, La Mer's moisturizing cream, Crème de la Mer, really heals your skin, stops inflammation, and reverses the signs of aging. I purchased the 2 oz jar and it costs $335.00; however, they sell smaller or larger jars to accommodate most budgets. You can also buy this wonderful product from Amazon! As an Amazon Associate, I earn from qualifying purchases – Please see our Policy Page.
Here is a link to purchase it on Amazon: https://amzn.to/2IogLld
While it seems expensive, after 2 years, I still have plenty left in my 2 oz jar. You know it must last for a significant period of time when you have the option of engraving the container (if you order it directly from La Mer)! I guess if you are going to have the same container in your beauty bag for several years, it might be nice to gaze upon a personalized message that is engraved just for you.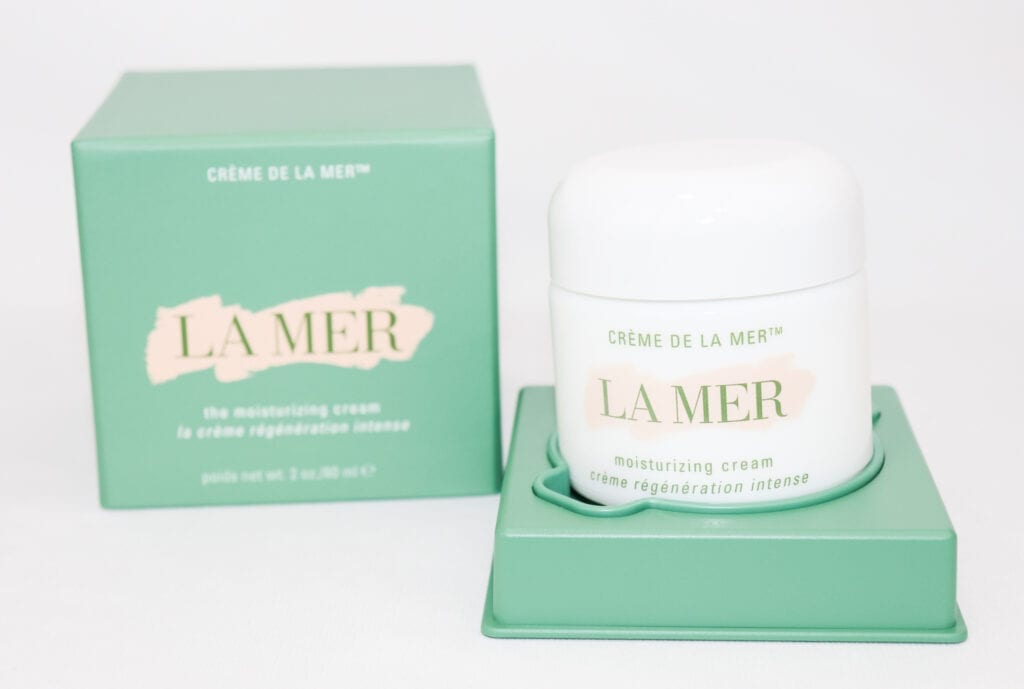 To read about a wonderful lip moisturizer, please click here:
https://www.luxeaholic.com/laneige-sleeping-care-lip-sleeping-mask/