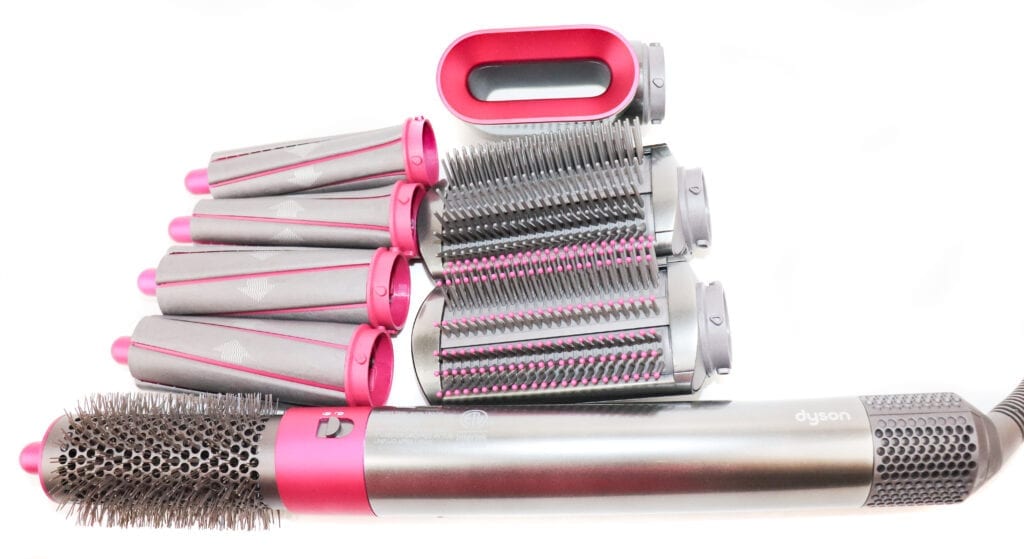 What is regaining a minimum of 10 minutes every morning worth to you? Could this Dyson Airwrap be the answer?
Disclosure – Some of the links in this post are affiliate links and if you use them to make a purchase, Luxeaholic, LLC will earn a commission. In addition, as an Amazon Associate, I earn from qualifying purchases. We link these companies and products because of their quality and not because of the commission we receive from your purchases. The decision is yours, and whether or not you decide to buy something is completely up to you. We appreciate you either way! Please see our Policy Page for more information.
WHAT'S IN THE BOX, DESCRIPTION, AND COST OF THE DYSON AIRWRAP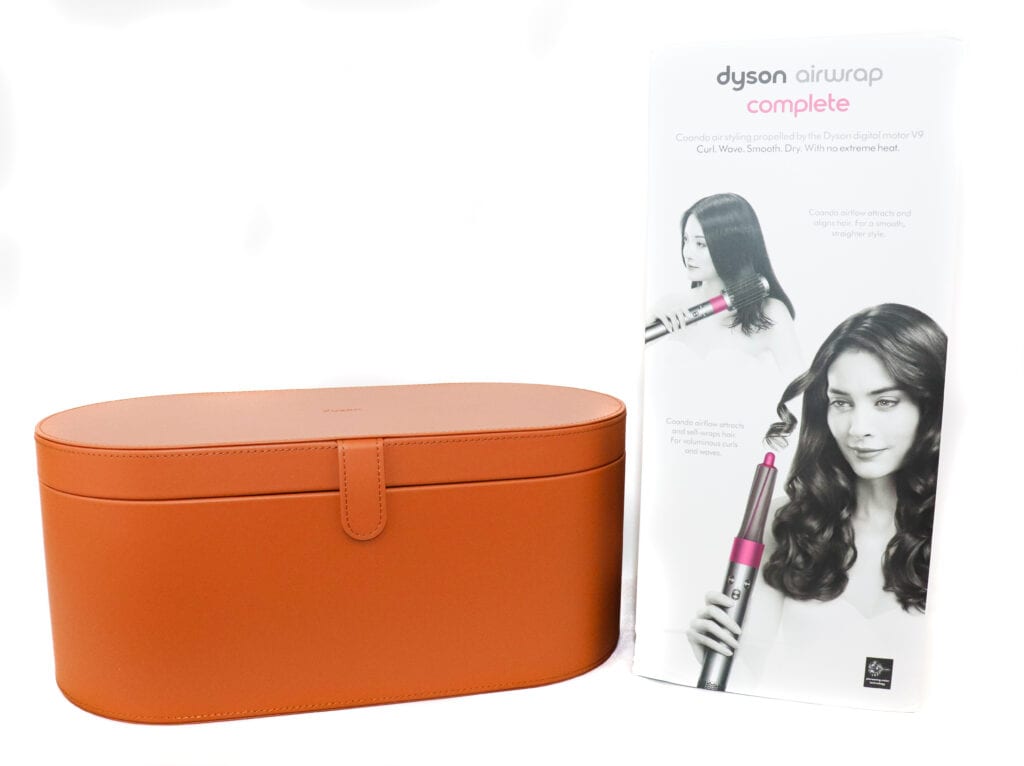 The complete kit costs $549.00 and you get the following: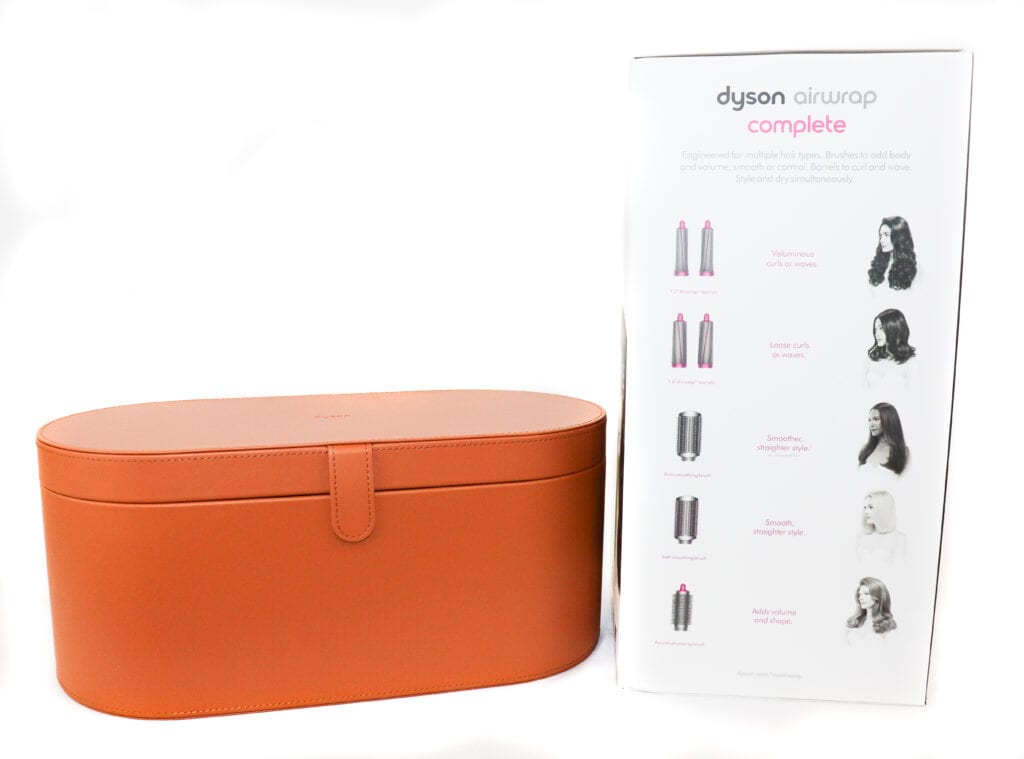 2 of the 1.5 inch Airwrap barrels- For creating voluminous curls;
2 of the 1.6 inch Airwrap barrels- For creating loose curls or waves;
Firm smoothing brush- A firm bristle brush for nice straight hair;
Soft smoothing brush- A flexible ball-tip bristle brush for a beautiful blow-dried finish;
Round volumizing brush- Short and firm bristles to shape the hair and create volume;
Pre-styling dryer- Seems like a full-blown hairdryer to me;
Storage case- A tan/bronze leather-like case with a velvety black interior and a magnetic closure tab that stores and protects all your Dyson Airwrap goodies;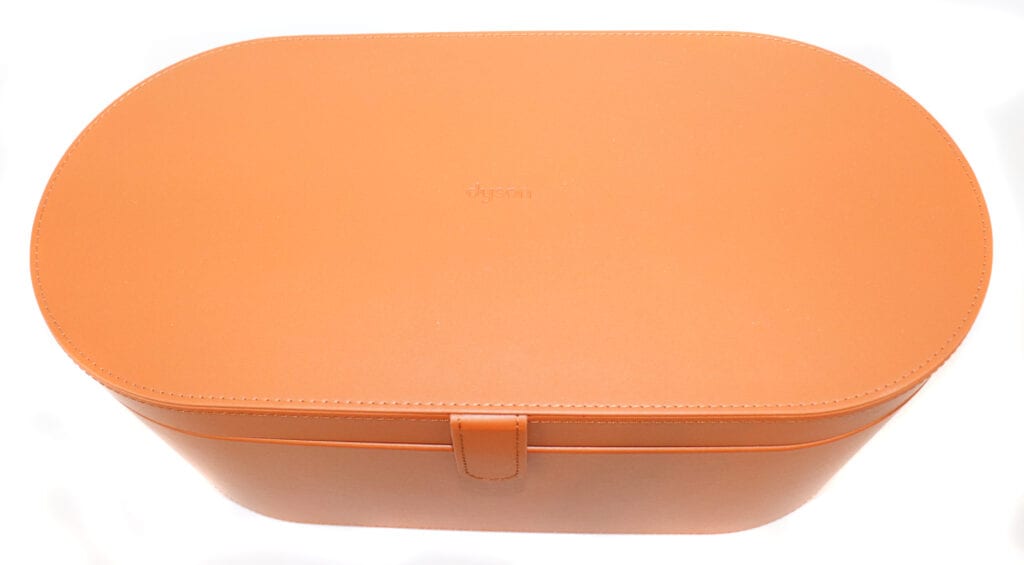 Non-slip mat- To place your Airwrap; and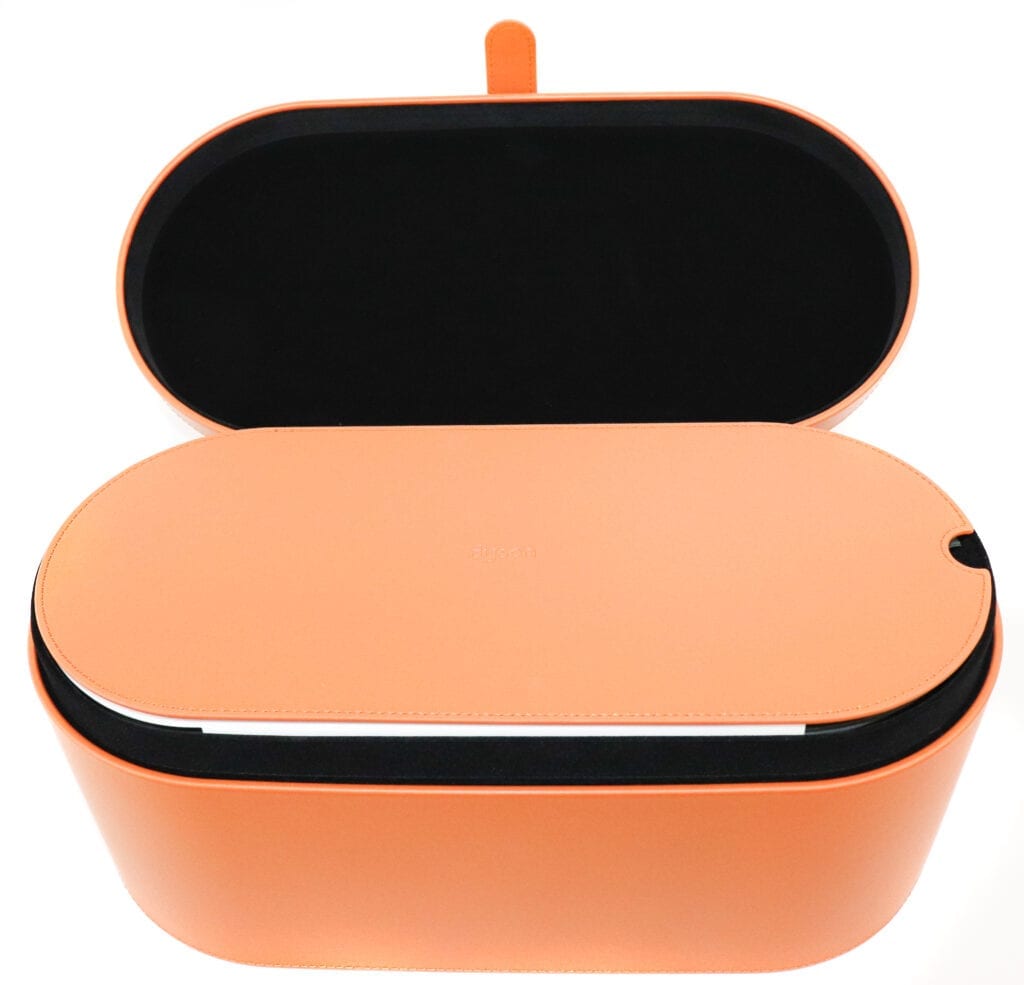 A filter cleaning brush- To quickly clean lint from the air filter of the unit.
BENEFITS OF THE DYSON AIRWRAP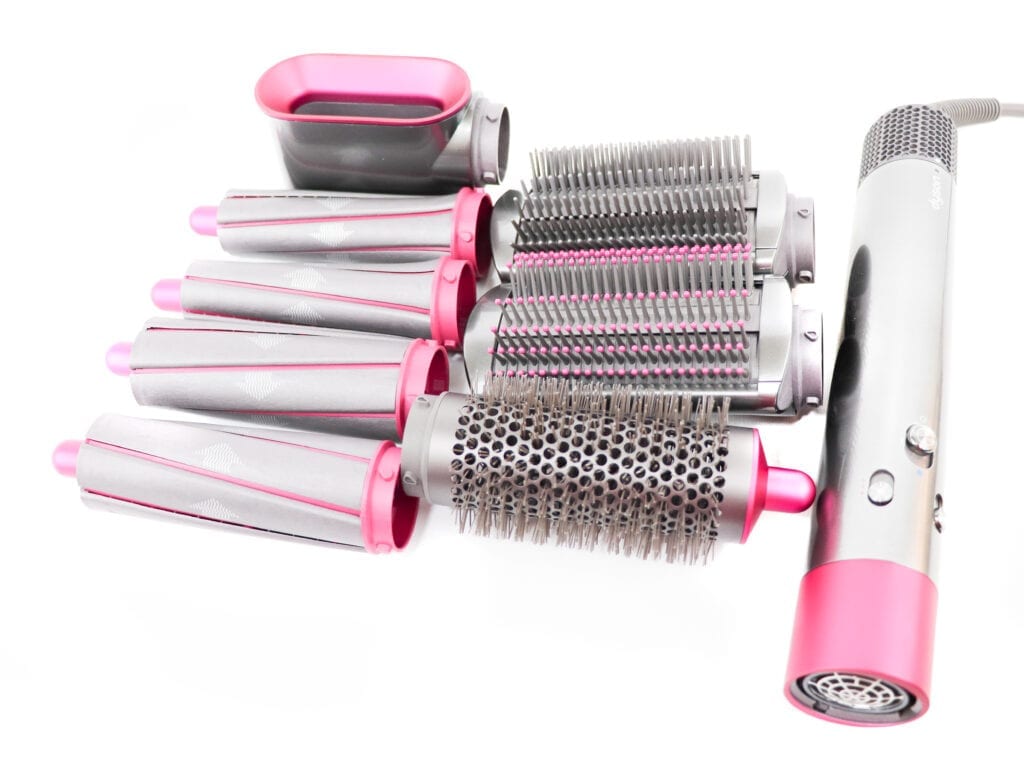 The Airwrap received Allure's 2019 Best of Beauty Breakthrough Award for a reason- it simply works wonders! This multi-tool does not use extreme heat, attracts and wraps your hair on its own, and styles/dries your hair simultaneously. Not to mention, everything about it is fast… I mean really fast!
The Dyson Airwrap Pre-styling Dryer
To begin the process, you use the pre-styling dryer to dry your hair from wet to damp. While this hairdryer is called a pre-styling dryer, it is a very powerful hairdryer that dries your hair quickly. For example, the first few days I used it, I had to mist my hair with water afterward because this little guy completely dried my hair so quickly. Ultimately, you want your hair to be damp so it will hold the curl the entire day. Once your hair has dried to damp, you simply select the tool you want to use.
Airwrap Barrel
If you want beautiful curls, the Airwrap barrels will do the trick. For example, the Dyson website references a phenomenon called the Coanda effect in which the air flow produced by the unit attaches itself to a nearby surface (the barrel) and continues to flow along the surface. As a result, your hair moves with the quick airflow and magically wraps itself tightly around the barrel. In due course, the barrels direct the airflow differently (clockwise or counter-clockwise), so Dyson included arrows on the barrels to help you discern which one you need to use. Undoubtedly, the clockwise and counter-clockwise direction creates lovely symmetrical curls. Consequently, all you have to do is switch up the barrel to change the direction of your curls! While it was fun to watch the hair wrap itself around the barrel, the real magic is revealed with how long the curls last. I literally had amazing curls all day and all night. Then I went to sleep… and woke up with curls. Granted they were more relaxed, but they were still there. You can see a video of the Airwrap barrel here:
I shot this short video on my Canon SX740. You can read a review of the camera here: https://www.luxeaholic.com/canon-powershot-sx740-hs-a-quality-pocket-camera-for-taking-on-the-go-pictures/
The Dyson Airwrap Firm Smoothing Brush
Next, for straight hair you can use the firm smoothing brush, which is satisfactory. Unfortunately, my hair was not as straight and shiny as I get with a flat iron, but this brush is noticeably less harsh on my hair.
The Dyson Airwrap Soft Smoothing Brush
Up next, is the soft smoothing brush. This brush is equally as quick working as the firm smoothing brush, but it creates a much prettier effect. I likened it to blow drying my hair with a large round brush. I found my hair to be smooth and mildly curled inward at the ends. In addition, the best part was that the freshly blow-dried look lasted all day.
The Dyson Airwrap Round Volumizing Brush
Next, is the round volumizing brush, which reminds me of how my hair looks when I leave Drybar. You can really get up near the roots and create bountiful volume the entire length of your hair. Then again, I personally find the Airwrap barrels easier to use on a daily basis as they seem quicker and do all the work for you.
Finally, I love that when I travel, I can grab the drying unit and whatever styling attachment I think I might use. Thanks to the slim design of the Dyson Airwrap, I have actually been able to narrow down how much I pack, but still have access to all my favorite styling tools!
WHERE TO PURCHASE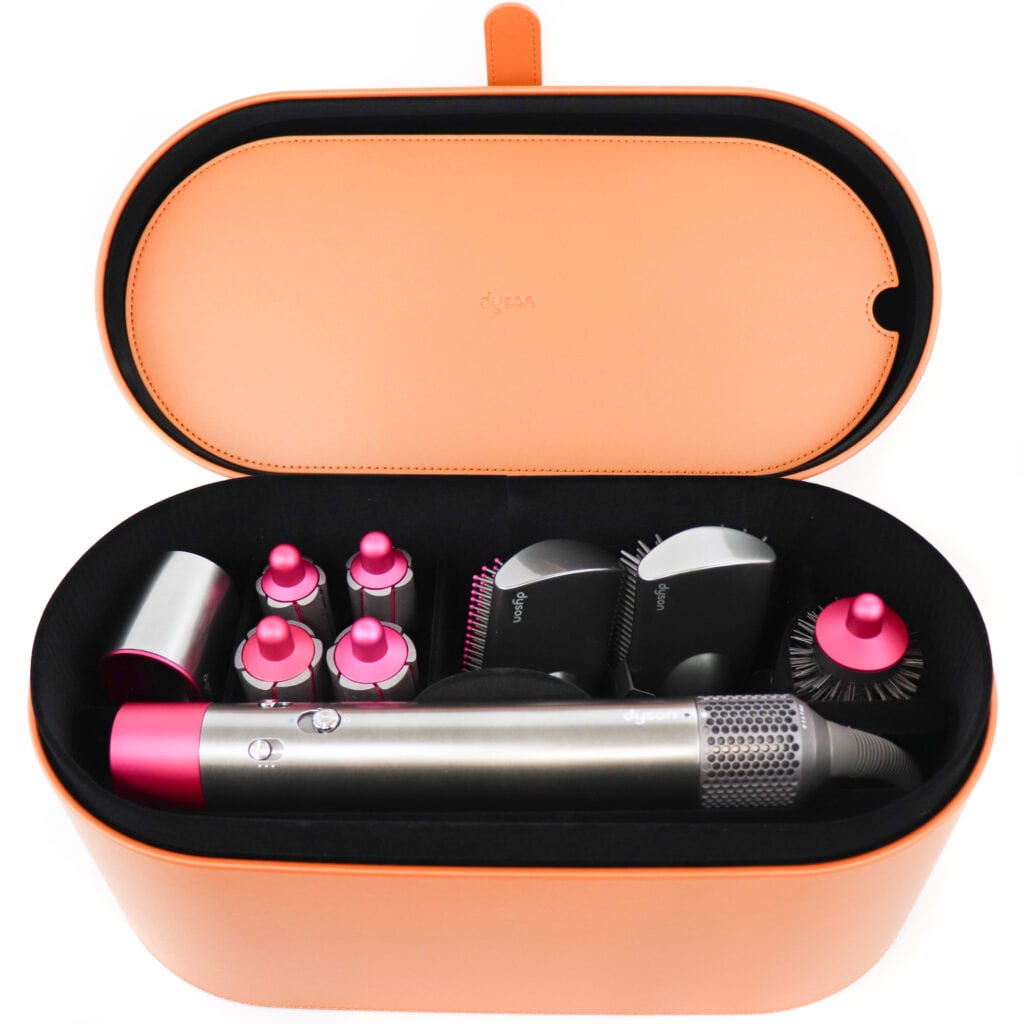 You can buy this wonderful product from Amazon! As an Amazon Associate, I earn from qualifying purchases – Please see our Policy Page.
Please click on the following link to purchase the Dyson Airwrap from Amazon: https://amzn.to/2tRMI1o
Most retailers only offer the iron and fuchsia color combination; however, you can purchase a black and purple version directly from Dyson. Here is a link:
https://www.dyson.com/hair-care/dyson-airwrap-styler-complete-black-purple.html
In addition, you can get less expensive kits, but they do not come with all the attachments. Also, the two offered kits each cost $499.00. The first is the Smooth + Control kit for frizz-prone hair, and the second is the Volume + Shape kit for fine and flat hair.
*Affiliate links – Please see our Policy Page.
If you want the Smooth + Control kit, you can purchase one here: https://amzn.to/2RTUS1A
Finally, if you want the Volume + Shape kit, you can purchase one here: https://amzn.to/36kAWtK
CONCLUSION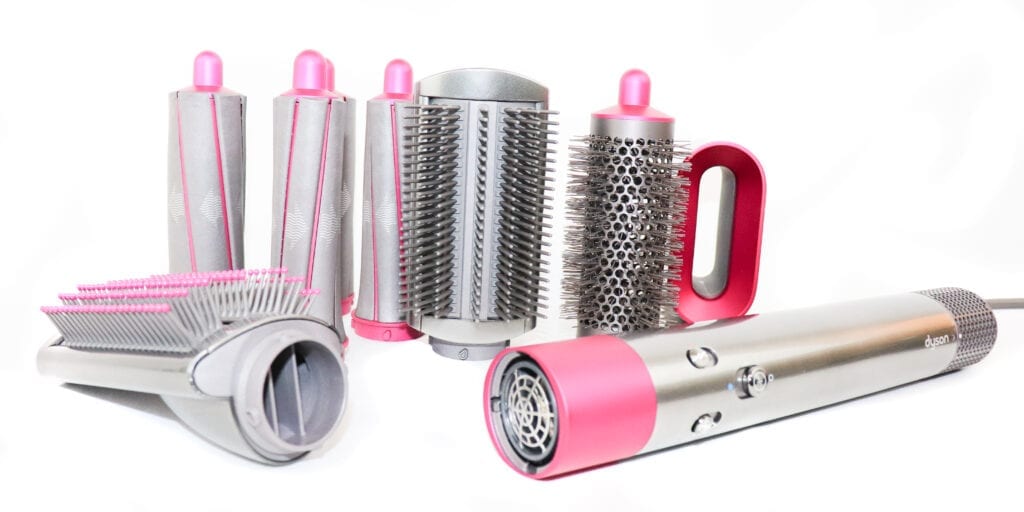 I have a reasonably simple beauty routine, but my hair is a time sucker. I am one of those people that has a ton of really thin hair… and an oily scalp. As such, I just do not feel squeaky clean if I do not wash my hair daily. In addition, I have tried most dry shampoos and, unfortunately, I only really like them for adding volume to my clean locks.
Consequently, I feel the need to wash and style my hair every single day. While it feels wonderful, it does take more time than I like. As a result, if I can knock 10 minutes each day off my beauty routine, I am in. That is what Dyson's styling multi-tool did for me. If you want to quicken your morning beauty routine, the Dyson Airwrap will help you!