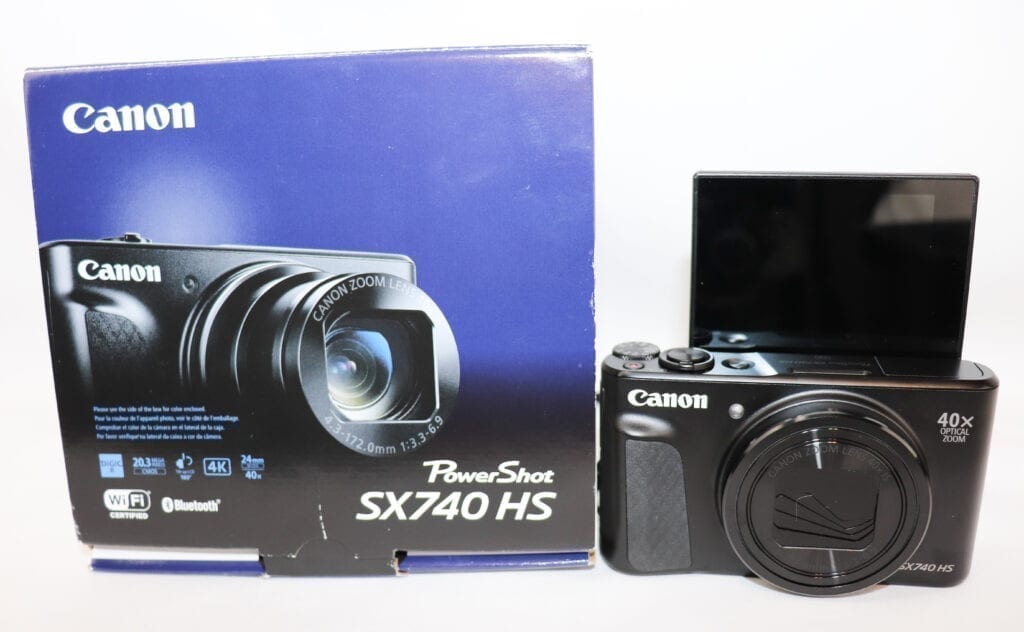 Are you frustrated because your phone will not zoom in enough to capture intricate details? Also, do you despise lugging around a big heavy camera? If so, the Canon PowerShot SX740 HS is a pretty nice compromise.
Disclosure – Some of the links in this post are associated with affiliate links and if you use them to make a purchase, Luxeaholic, LLC will earn a commission. In addition, as an Amazon Associate, I earn from qualifying purchases. We link these companies and products because of their quality and not because of the commission we receive from your purchases. The decision is yours, and whether or not you decide to buy something is completely up to you. We appreciate you either way! Please see our Policy Page for more information.
The SX740 HS has a substantial amount to offer for a travel camera that costs approximately $355.00. Not to mention, it has been around long enough to allow for some pretty decent reviews on both its function and wear and tear.
This compact camera is 4.33 inches x 2.51 inches x 1.57 inches and weighs just over 10 oz. I can easily grab this solidly built camera with one hand due to the textured grip and thumb rest. It is lighter than a bottle of water, which I thought was surprising since it is an all-metal body.
The exterior of the camera sports a 3-inch screen that tilts 180-degrees. In addition, the screen can be flipped the full 180-degrees, so you can see yourself when you vlog or take a selfie. On the top of the camera you have a pop-up flash, a long built-in microphone, speaker, a power button, a shutter button with zoom lever, movie button, and a mobile dial that allows you to easily select your different camera shooting modes. The front of the camera includes the lens and lamp. On one of the sides there is a flash pop up switch, and the other side includes a place to attach a camera strap and a flip open compartment for your digital and HDMI terminals. The bottom has a socket to attach a tripod and a flip open memory card/battery cover.
Additionally, the side opposite of the lens has a framing assist button, connectivity button (Wi-Fi & Bluetooth), playback button, and a menu button. In the center of those four buttons is the control dial that allows you to toggle left, right, up, and down to navigate through the various camera settings; however, that same dial also lets you rotate the actual dial to the left and right to perform most of those same operations. The left portion of the control dial provides easy access for macro/manual focus. Also, the right portion lets you control the flash. Conversely, the top of the control dial allows you to easily access exposure compensation. The bottom permits you to adjust how much information is displayed on the screen. In the center of the control dial lives the quick control/set button.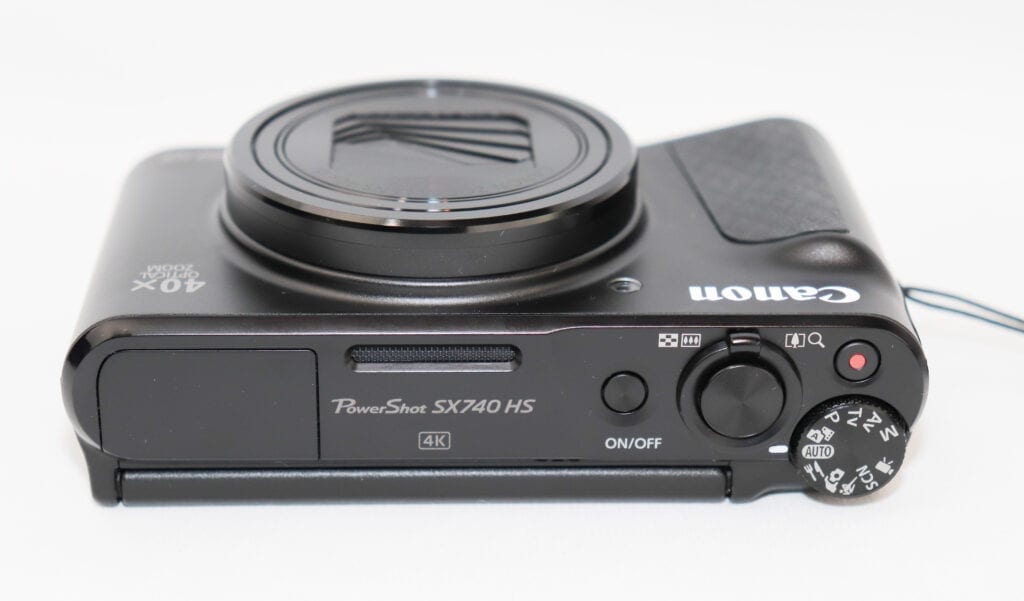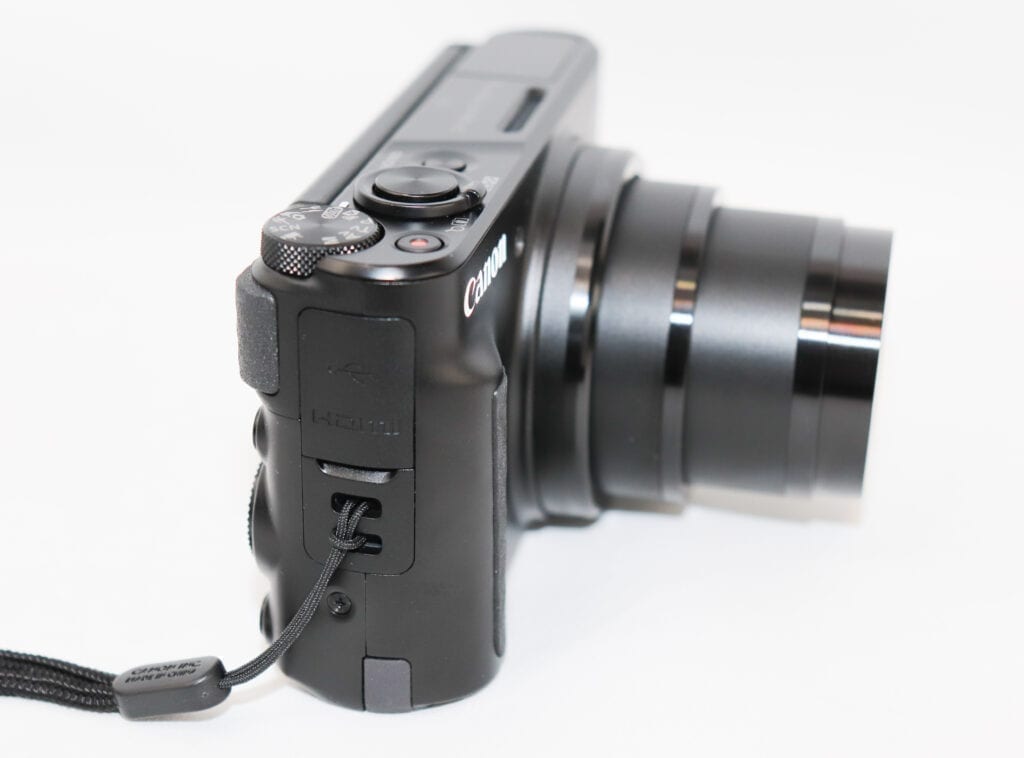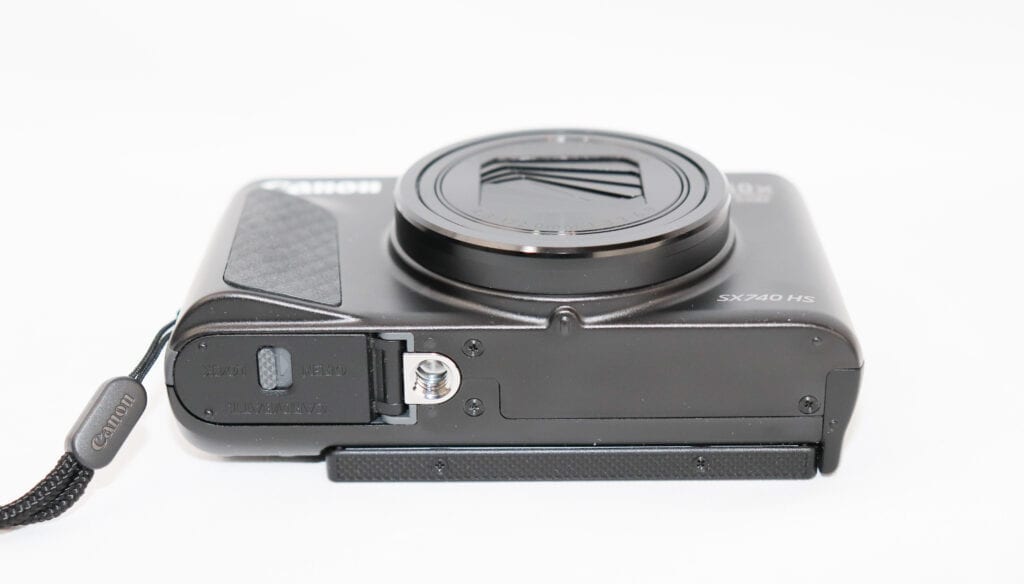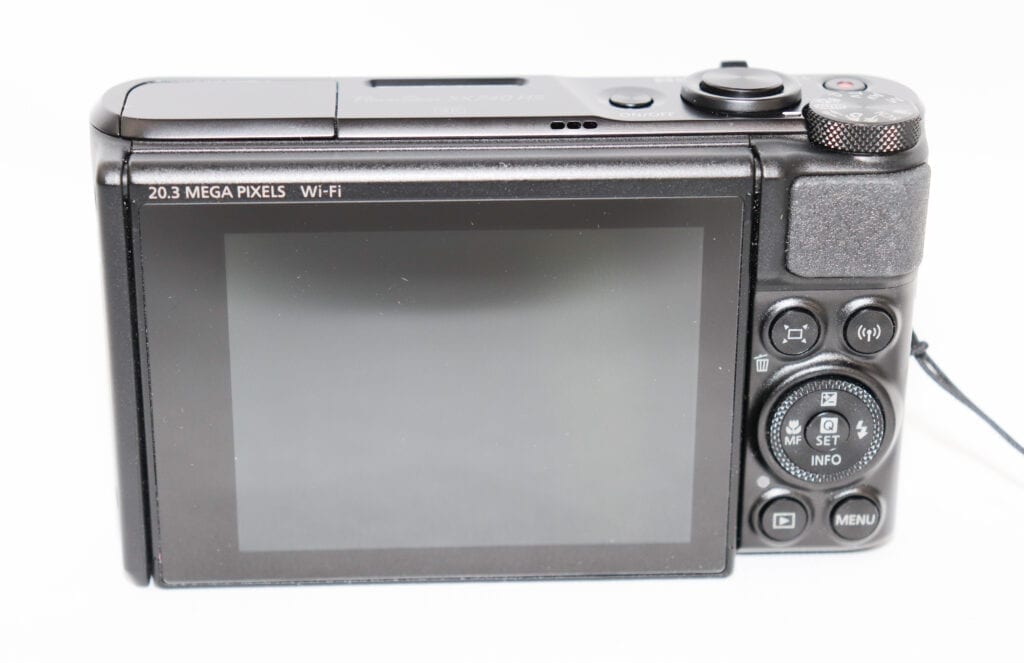 This small little powerhouse of a camera permits the use of semiautomatic and manual exposure controls. This is surprising for a point and shoot camera. Also, the Digic 8 image processor allows you to capture 4K videos at a frame rate of up to 30p. There is also continuous stills shooting at up to10 fps with AF lock. Moreover, the SX740 boasts 40x optical zoom (80x digital zoom) and a 20.3-MP (1/2.3-inch) sensor that is decent for this little camera. The Canon website lists "40x Optical, 4x Digital and 160x Combined Zoom with Optical Image Stabilizer."
Also, the detail you can pull from this camera when compared to a simple smartphone camera is phenomenal! Disappointing is that there's no ability to shoot photos in Raw. This is a bummer since it does have manual and creative shooting modes. Additionally, the SX740 crops the image a bit when you record in 4K. Finally, the SX740 does not have a viewfinder, touchscreen, or the ability to attach an external microphone. Those deficits were not deal breakers for me.
The SX740 comes with a battery, battery charger, and camera strap. You will have to purchase a memory card unless you go with a retailer that bundles one into the purchase price.
The win for me was the color quality achieved by Canon when compared with other point and shoot cameras. In addition, I am familiar with the Canon interface and Camera Connect App from using my Canon T7i. The SX740 Wi-Fi and Bluetooth connectivity mean there is wireless image sharing with your phone. Additionally, your phone's GPS can also be used to add a location tag to photos.
Moreover, the nice 5-axis image stabilization really helps when you use the amazing zoom lens in this camera, or if you want to walk and vlog at the same time. I have dropped other point and shoot cameras and destroyed them. As such, I knew I wanted a travel camera that would not break the bank. The price of the SX740 fit the bill for me.
There are many options for decent point and shoot cameras nowadays, but the SX740 remains a good travel camera. It is helpful for when you do not want to take a heavier, better quality professional camera with you, but you still want decent picture quality. The combination of the price, qualities, and compactness means this little guy goes everywhere with me!
See how easily this little camera fits in a purse by reviewing this blog post: https://www.luxeaholic.com/gucci-marmont-small-camera-bag-a-stylish-crossbody-handbag/